To:

Louisiana State Legislators
Support Louisiana Libraries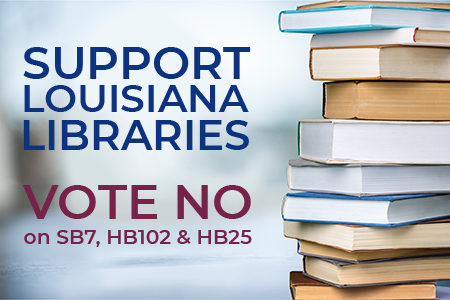 Vote NO on SB7, HB102, and HB25.
Why is this important?
There are three bills designed to dismantle Louisiana libraries and limit your right to read. HB25 will politicize libraries by ending local library boards of control as we've known them. SB7 and HB102 are aimed at restricting what books Louisiana citizens can read in our libraries. While short-sighted politicians use national culture war talking points to try to divide us and tell us what books our kids should or shouldn't read, we trust Louisiana citizens to make their own decisions about what to read, and we trust parents to parent their own children.
Louisiana's public libraries have policies and protections in place to ensure that there is a robust library collection that serves the needs of the local community. Those policies, passed with the input of the community in open public meetings, enable parents to make good reading choices for their children and protect kids from the substantial amount of dangerous content available on the open internet.
Library, education, and good government stakeholders across our state have joined together to tell Louisiana legislators to oppose SB7/HB102 and HB25 which restrict Louisiana citizens' access to books and information and also facilitate the politicization of libraries by allowing Parishes and Police Juries to remove the local library board of control.
Please join us. Sign this petition today and ask your legislators to oppose SB7/HB102 and HB25.
___________________________________________________________________
SB7/HB102 FACTS
Louisiana libraries do not collect and make available obscene materials. The definition of the term "sexually explicit" detailed in SB7 and HB102 is a broad one that encompasses all mention of sexual conduct. Codifying this definition into law would force the removal of age-appropriate books related to biology, sex education, health, puberty, art, and the Bible from the children and teen sections of libraries. Public libraries have a responsibility to provide age-appropriate materials on these topics to patrons. In all instances, parents have the opportunity and responsibility to direct the use of library materials for their child.
SB7 and HB102 would:
--Require libraries to consider undefined "community standards" for the population served when acquiring library materials. Public library selection policies are currently written to address the needs of all community members, thereby ensuring that groups in the minority of a population are served along with groups in the majority.
--Require libraries to establish a library card system that restricts a minor from checking out any library material from a collection that contains sexually explicit material. Creating areas within libraries that house "objectionable" or "sexually explicit" material ignores the merit inherent in those titles as works of literature that should be judged in their entirety as required by the Miller Test. Libraries already organize their collections by age-appropriate categories and some restrict checkouts by card types.
--Require libraries to establish a procedure that allows a library patron to request the reconsideration of whether library material should be included in a library collection and treats material that is considered sexually explicit by the patron differently than other library material. Louisiana public libraries currently have policies in place to allow patrons to request reconsideration of any library material. There is no reason to create an additional procedure.
HB25 FACTS
Public libraries in Louisiana have been operating for decades under the supervision of dedicated, knowledgeable board members and professional staff. The current state laws governing library boards of control have been set up to allow local governing authorities to oversee the board with reasonable limits in place.
--House Bill 25 would lead to the politicization of library operations and be detrimental to the functioning of the library. There is no reasonable justification to eliminate the current management structure of public libraries and replace it with the unfettered power of a parish council or police jury. If applied, this bill would set a precedent that would have similar effects on other local boards and commissions.
--HB25 states that library board members would serve at the pleasure of the governing authority. This removes the term structure set by current law and allows politicians to remove board members at will or keep them in office indefinitely. It also removes the staggered terms of board members that contributes to stability within the library board and in turn within library operations.
--HB25 would also allow politicians to hire and fire library employees at will. Public libraries currently operate outside of partisan politics to serve the needs of the entire community. The proposed law has the potential to make library employment politically motivated rather than being based on professional experience and expertise.