Read In at the State Capitol on January 25, 3-6 pm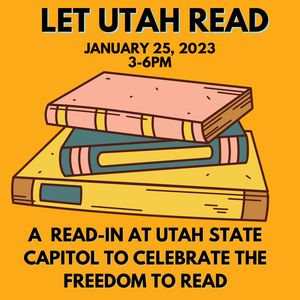 Come to the Utah Capitol for a read-in to support Utahns' right to read!
This read-in event will run from 3-6. We'll begin with a community reading hour in the Rotunda between 3pm and 4pm. This is a BYOB: Bring your own book event!
Between 4 and 5:15pm, come hear keynote and guest speakers, Erika L. Sanchéz, Shannon Hale, Poet Laureate Lisa Bickmore, Erika George, Jeanetta Williams, Kimberly Johnson, and Utah students, educators, and other concerned citizens and community members who want to preserve the freedom to read. See more info about schedule of event and speakers at: https://www.letutahread.com/readin
Between 5:15 and 6pm you'll have a chance to meet authors and speakers and learn more about Let Utah Read and its affiliates' mission to defend the freedom to read - and what you can do to help!
This event is brought to you by Let Utah Read, a joint partnership with PEN America, ACLU, Utah Library Association, with support from EveryLibrary.
By registering for this event, you are agreeing to receive periodic updates from these organizations from which you can opt-out of at any time through a link at the bottom of any email you receive.
Starts on
Wednesday, January 25, 2023 at 3:00 PM MST
Ends on
Wednesday, January 25, 2023 at 6:00 PM MST
Partner
Links